Cooking on a flat top is a wonderful thing.  It is such a versatile appliance to add to your outdoor kitchen.  Yes, you can cook the usual burgers and dogs, but there can be so much more.  Breakfast, lunch and dinner are right at your finger tips.  Propane griddles are available from several venders and come in different sizes.  Look for one in the size that fits your cooking needs.  Make sure you have a good, solid frame to support it and that it sits level.  Before using you new griddle, make sure you season it well according to the manufacture's instructions.  Some good options are:
Blackstone:  https://www.blackstoneproducts.com/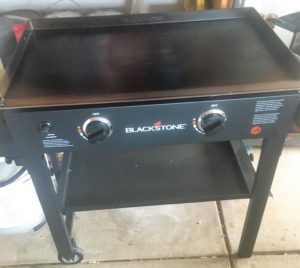 Camp Chef:  https://www.campchef.com/flat-top-grills-new.html
Make sure that after every use you clean your flat top thoroughly.  I like to use a lava stone that I purchased off Amazon.  Once the top is clean, oil and reheat the griddle before turning it off.  Covers are also available to help keep your griddle in great condition.  With a little tender loving care your griddle will last your family for a long time.  Use your imagination and you will find some wonderful creations will come from your griddle to your table!