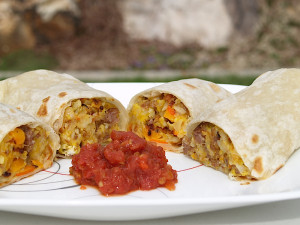 One our favorite breakfasts for camping or any time when we are cooking for a large group is breakfast burritos. What makes these so nice is that you can add any food items that you like to the burrito to tailor them to your taste. I like cooking them on my double grill on the outdoor stove because I have a lot of surface area to use for cooking. This recipe is using fresh vegetables but you can substitute them by using frozen hash brown that contains the peppers and this can making it easier to cook when camping ( I prefer taking the time to use fresh vegetables).

Ingredients
8 – 10 eggs
1 small package of frozen hash browns
1 red pepper
1 yellow pepper
1 green pepper
1 small onion
Shredded Cheese
1 pound Jimmy Dean Sausage (can also use thick cut bacon, cooked steak cut into strips or ham)
Vegetable Oil
Tortilla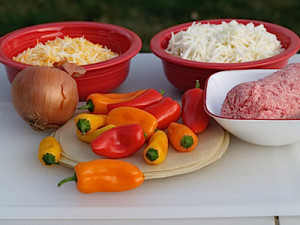 Preparation
Cut up the peppers and onion into small pieces and place in a bowl.
Heat the grill on low to medium heat.
Pour a little bit of the vegetable oil onto the grill and spread it out using a spatula.
Place the hash browns on one side of the grill and the sausage on the other side.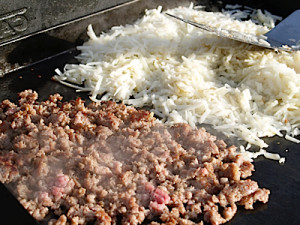 Continue cooking the hash browns until they are cooked the way you like them.  Turn the hash browns over regularly.  Some people prefer hash browns that are crunchy or some prefer them soft.  Remove them from grill when done.
Cook the sausage and chop it into fine pieces using the spatula until done.  Remove the sausage from the grill when done.
Cook the vegetables on the grill until the onion turn clear and the peppers and soft and tender.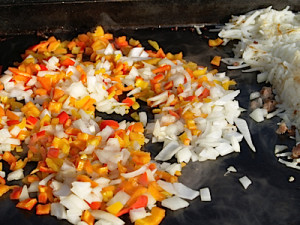 When the hash brown, sausage and vegetables are all cooked, mix all the of them together on the grill.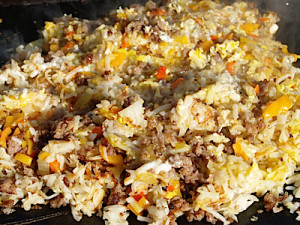 Add the eggs to the mixture on the grill and stir it all up.  Continue turning the mixture while the eggs cook.
When the eggs are cooked add a generous amount of shredded cheese and fold the mixture over the cheese and let it melt.  Continue folding the mixture until the chess is all melted and mixed in.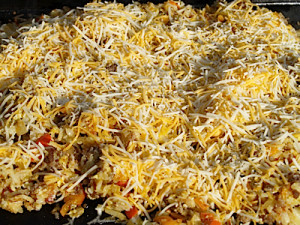 Heat up some tortillas and prepare the burrito the way that you like it.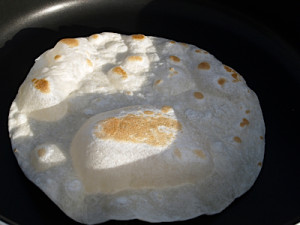 I really enjoy a tasty breakfast to start out the day especially when you are camping.  There is nothing like waking up in the morning to the smell of food cooking.  It is amazing on how fast the kids get up when they can smell the food cooking and you say breakfast is being served!