We are a long-way from the South but I LOVE making this dish when we go camping.  It has a great combination of sweet and heat.  It is awesome for dinner and then the leftovers can be put in a cooler and placed in a tortilla the next day for a Cajun Wrap.  So easy to make-up ahead of time to take with you.  I think you will LOVE it as well.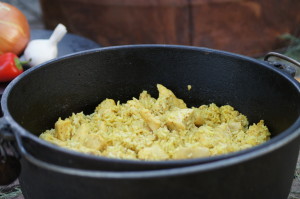 Cajun Curry Chicken
1/3 cup honey
3 T. water
3 T. prepared mustard
2 T. melted butter
2-3 tsp. Cajun seasoning
2-3 tsp. curry seasoning
1 tsp. lemon juice
1 clove garlic, minced
6 boneless skinless chicken breasts (great with
boneless thighs too)
2 1/2 cups instant rice
Mix first 8 ingredients.  Pour over chicken.  Bake in covered 12 inch Dutch oven at 350° (16 coals on top 8 coals on bottom) for 30-40 minutes or until just about done.  Add instant rice and 1 cup of water.  Bake another 20 minutes at 400° (add 12 coals on top and 5 on the bottom)  until rice is tender and juices are absorbed.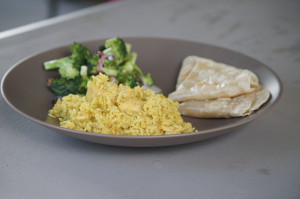 Variation Use bone-in legs and thighs.  May need to adjust water when adding rice.
Note:  When going camping just combine the first eight ingredients with the chicken in a zip-lock bag and place in your cooler.  When it is dinner time just dump and cook.