My very first Dutch oven experience was with my brother-in-law Dean Hatch at the Festival of the American West in Logan, Utah.  Dean needed an assistant and I was fortunate enough to join him.  This is his grandmother's recipe and it was good enough for us to place in the desert competition.  My family loves this treat from heaven and when you top it off with a little ice cream there is really nothing like it.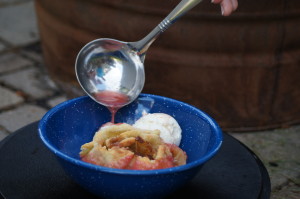 Grandma's Candied Apple Dumplings

8 Med apples, peeled and cored (I love Granny Smith)
3/4 Cup Sugar
2 tsp. Cinnamon
8 T Butter
Pastry:
4 Cups Flour
1 1/2 tsp. Salt
1 1/3 Cup Shortening
1 Egg, beaten
1 T Vinegar
8 T Cold Water
Syrup:
2 Cups Water
1 Cup Sugar
1/2 Cup Butter
1/2 Cup Red Hot Candies
For pastry, place flour and salt in a bowl and cut-in shortening.  In a measuring cup blend egg, water and vinegar.  Add enough liquid to the flour mixture to hold the dough together.  Divide into eight equal portions.  Roll each piece out into a 8 – 9″ circle.  Place apples in the center of the pastry, sprinkle with cinnamon and sugar and dot with butter.  Fold the pastry up around the apples and place into a 12″ Dutch oven.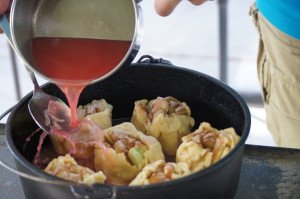 For syrup combine sugar, butter and red-hots in a sauce pan and bring to a boil.  Boil for three minutes.  Pour the syrup over the dumplings and bake for 30 – 40 minutes with 20 coals on top and 8 coals underneath.  Bake until apples are soft and pastry is nice and brown.  Serve with ice cream.