Faith loves ribs.  I mean she really, really likes ribs.  A while back she was sitting in a hospital waiting area flipping through magazines.  She happened upon a recipe for ribs that only takes a little more than an hour, which almost seems too good to be true.  Most of the time you have to bake them for hours.  The combination of using a brine and finishing them on the grill was really good.  We tried it for the first time and found it to be a keeper.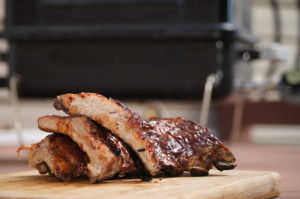 Our 1-Hour Ribs
6 Quarts Water
1 Cup Sugar
1 Cup Course Salt
1 Head Garlic
Ribs (You can use Baby-Back or Country Style Boneless)
Bring water to a boil.  Add salt and sugar.  Add garlic, smashed and unpeeled.  Add ribs and boil for 30-minutes until tender.  Transfer meat to a cooling rack or cookie sheet and allow to dry for 5-minutes.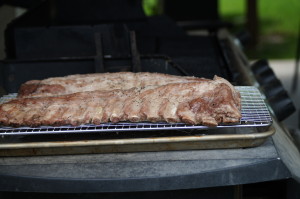 Brush ribs with olive oil and season with course salt and freshly ground pepper.  Grill for 5 – 10 minutes until charred in spots.  Brush with your favorite barbeque sauce to finish the grilling process.
NOTE:  Boiling the ribs in brine does amazing things to your ribs.  If you are going camping with your Dutch oven, just refrigerate ribs after the boiling process.  Then at your campsite place your ribs in an oven and cover with barbeque sauce.  Add charcoal and cook until you are ready for dinner.  You entire camp will be impressed and amazed.