When I visited my sister in Canada, she grilled some salmon on her gas grill using ceder planks and it tasted really good.  I found some cedar planks recently so I thought I would try smoking some salmon in my kamodo charcoal grill.  This turned out better than I remembered and it is another great way to cook up salmon.  The cedar plank make it easy to take the salmon straight from the grill to the table.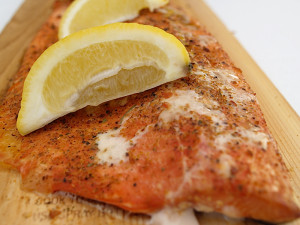 Ingredients
Salmon steak
Sweet Basil, Citrus & Garlic Rub
Olive Oil
Lemon
Cedar plank
Directions
Place the cedar plank in water for 3-4 hours before you plan to smoke the salmon.  This will prevent the wood from burning in the smoker.
Place the charcoal in the kamodo smoker and light it and let it come to a temperature between 215 to 225 degree F .  I like to place a couple of pieces of soaked fruit wood in with the charcoal when cooking fish.  I used 3 chucks of cherry wood during this cook.
Rinse the salmon in water and pat dry and place on the soaked cedar plank with the skin down.  Brush on some olive oil and then sprinkle the rub on the salmon.  Place the salmon on the grill and let it smoke for about 40 minutes or until it reaches an internal temperature of 130 – 135 degree F.  Serve immediately when it is done.