My daughter introduced me to Mel's Kitchen Café and I just can't seem to get away from it.  Katie found these wonderful chicken sandwiches there and I have been in heaven ever since.  We made our own adaptations and are happy to share the recipe with you.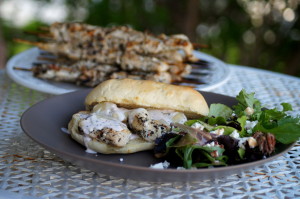 Chicken Spiedie Sandwiches
1/2 cup olive oil
2 garlic cloves, finely minced
1/2 tablespoon dried basil (or 2 tablespoons fresh basil, finely chopped)
1/2 teaspoon dried oregano
1 teaspoon salt
1/2 teaspoon pepper
1/4 teaspoon red pepper flakes
1/3 cup mayonnaise
1 tablespoon juice from one lemon
1 tablespoon red wine vinegar
4 boneless, skinless chicken breasts about 1 1/2 pounds
6 medium sub rolls, slit partially open lengthwise
6 slices Provolone cheese
Combine the first seven ingredients in a mixing bowl.  Remove two tablespoons of the marinade to a separate bowl and whisk in the mayonnaise, lemon juice and vinegar – refrigerate.  Cut chicken into 1 1/2″ cubes and add to marinade.  refrigerate for 1 – 2  hours.  Preheat your grill to 300 degrees.
Remove chicken from marinade and slide onto bamboo skewers that have been soaked in water.  Grill for 10 – 15 minutes until done.  Remove the chicken from the skewers and place on toasted rolls.  Top with your mayonnaise sauce and a slice of provolone cheese.  Welcome to heaven!
Note.  If you are camping – take your chicken and marinade in a gallon zip-lock bag and place in your cooler.  To toast your rolls, invert a Dutch oven lid onto a lid holder and place coals underneath.  Please buttered rolls in the lid until brown.