If you have ever spent much time around Manti, Utah you have seen lots of long, white turkey sheds.  Boy do those folks know how to raise turkeys.  And they have perfected a simple marinade that takes turkey to a new level.  My daughter Katie was fresh out of turkey, so she substituted chicken.  It was a killer dish.  You will want to add this to your next cookout!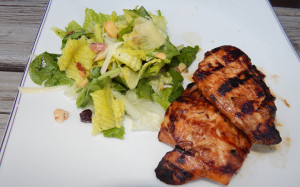 Manti Turkey (Chicken) Marinade
½ cup soy sauce
½ cup vegetable oil
½ tsp. prepared horseradish
¼ tsp. garlic powder
1 cup 7-Up
3 lbs. sliced turkey breast or tenders, chicken breasts or boneless thighs
Mix all ingredients well  and place into a large, sealable container or a gallon zip-lock bag.  Add turkey or chicken, mix well and seal.  Allow to marinate for at least 2 hours or more.  If you are using thick breasts, you can filet in half and pound to desired thickness.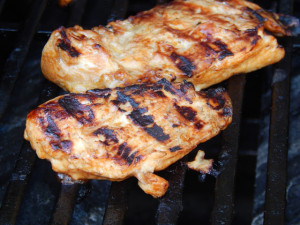 Grill over medium-high heat until done.  For poultry you should have an internal temperature of 165 degrees.  Serve with your favorite salad or side dish.
Note:  If you are cooking away from home just put everything in a zip-lock bag and throw it in your cooler to take with you.  Once you set up camp you are ready to grill and eat.