How fun is this, fresh homemade pizza on the grill?  Heat up the outdoors and not your kitchen.  My children gave me a 14″ cast iron pizza pan for Father's Day and it worked great!  Crisp crust on the bottom and nice and bubbly on top.  Some folks are afraid of trying pizza dough but it is really quite easy.  Take your next pizza out doors – you will love it!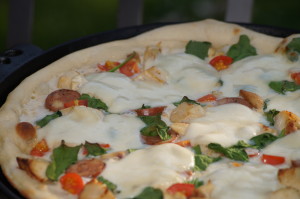 Pizza on the Barbie

2 cups warm water
1 T. yeast
1 T. salt
2 T. oil
5 cups flour, divided
Mix warm water, oil and yeast, let sit 5 minutes. Add 2 ½ cups flour and mix well in Kitchen Aid or with a dough hook. Add additional 2 ½ cups flour and salt, knead. Let dough rest in a ball for 10 to 20 minutes. Roll out dough to desired thickness and place on heavy pan that has been greased.
Top with Alfredo sauce, chicken, Italian Sausage, fresh spinach, tomatoes and sliced fresh mozzarella.  Preheat grill to at least 350 degrees.
Bake pizza until crisp in the bottom and bubbly on top.  actual time will depend on the temperature of your grill.  Usually 10 – 15 minutes, it is OK to peek!