My wife 's goal was to come up with a chicken pot pie that was better than she could get at the restaurant.  Let me tell you, she totally nailed it!  My family LOVES this recipe and we make it often.  If you are going camping, just make the filling ahead of time and put it in a gallon zip-lock bag.  You can also make the crust, rolled it in wax paper and plastic and place it in your cooler as well.  Then when it is dinner time just dump the filling in your oven, cover with crust and bake.  Camping was never so good!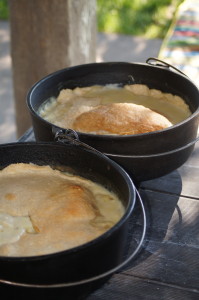 Chicken Pot Pie
2 cups cooked chicken, diced
1/2 cup frozen peas (added at the end)
1 1/2 t. dried onion
2 small potatoes, diced
2 carrots, diced
1-2 rib celery, chopped
4 T. butter
6 T. flour
2 cups milk
4 tsp. chicken bullion
3 cups hot water
In a large pan, pare-boil veggies (except the peas) in water and chicken bullion until tender – about 10-minutes. Meanwhile, in a separate pan, melt butter and add flour, salt and pepper to taste.  Add milk and stir until a thick white sauce is made. Add the white sauce to the broth and vegetables and stir until thickened.  Add chicken and peas and put in a 12″ oven. Top with crust, see below.  Cut air vents with sharp scissors.  Bake 20 minutes at 400° or until golden brown.
Butter Pie Crust
1 cup + 2 T flour
1/2 cup butter
1/4 tsp. salt
1/4 cup ice-cold water
Combine flour and salt.  Cut in butter until it is the size of peas.  Add water and form into a ball.  Roll the dough out between a sheet of wax paper and a sheet of plastic wrap, into a 12″ diameter.  The curst can be rolled out, frozen and put in your cooler.