We got this recipe many years ago and it has become one of our go-to chicken marinades.  Cayenne pepper adds just the right kick of flavor.  It is wonderful as a grilled main dish, and leftovers can be added to fajitas or to top Alfredo pasta.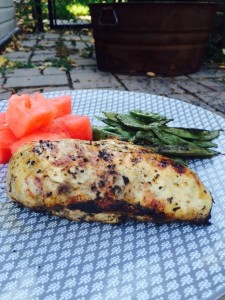 Herbed and Lemon Grilled Chicken
4 medium lemons, cut into wedges
½ cup vegetable oil
8 garlic cloves, minced
4 tsp. minced fresh basil
2 tsp. minced fresh thyme
2 tsp. salt
½ tsp. cayenne pepper
3 lbs. chicken, boneless, skinless
Gently squeeze lemons into a large re-sealable plastic bag, leaving lemon wedges in the bag.  Add the next six ingredients and squish the bag to mix.  Add chicken & turn to coat.  Seal bag and refrigerate  for up to 24-hours, turning when you think of it.  Remove chicken and grill over medium heat until juices run clear.