My wife keeps telling me "Why go out to eat when we can make it better here at home?"  So a few nights ago we were in the mood for something really good with lots of flavor and landed on an Island Rice Bowl with a fantastic peanut sauce.  We used zucchini, carrot, onion, sugar peas and broccoli, but you can choose what ever vegetables are your own personal favorite.  Add grilled chicken (we did), steak or shrimp.  Omit meat for a wonderful vegetarian dish.  Top it all off with sauce.  You will find yourself dinning at home more often too.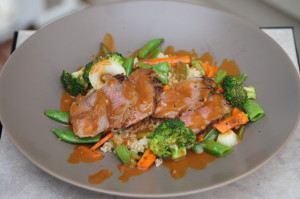 Mongolian Barbecue
1 cup black beans
Grilled steak, chicken, shrimp or any combination
Sliced carrots
Sugar snap peas
Broccoli crowns, separated
Onions, sliced
Celery, sliced
Zucchini, sliced
Mushrooms, cut in half
Red or green pepper, julienned
I have linked the brown rice to Mel's Kitchen Café – it is the best brown rice ever!  After rice is cooked, stir in black beans and set aside.  Grill your favorite meat as desired.  Meanwhile, stir fry whatever vegetables you like.  A cast iron wok on your camp stove works great.  To serve, place rice in a bowl and top with vegetables.  Add some meat if desired.  Top with peanut sauce, see below.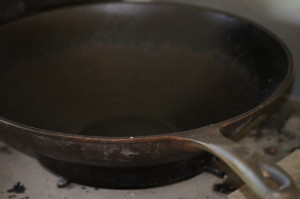 Peanut Sauce
Oil
2 medium cloves garlic , minced
1″ fresh ginger, peeled and grated
1/2 cup peanut butter
5 T soy sauce
2 T rice vinegar
1 T sesame oil
2 T light brown sugar
2 T honey
Sauté garlic in a little oil until fragrant but not browned. Add all other ingredients and heat through.  Thin with water to desired consistency.