Youth leaders are always looking for an easy meal to cook with their group.  The other day we were doing girl's camp certification training and pulled out an old standby.  Everyone loved it!  This is fast, easy and sure to please.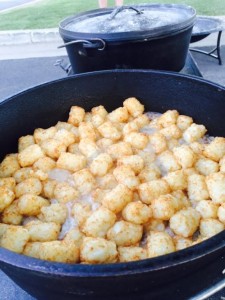 Tater Tot Casserole
1 lb. lean ground beef
1 T dried onions (or 1/2 cup fresh)
1 can cream of mushroom or chicken soup
1 bag tater tots
Cheese (optional)
Cook hamburger and onion, chopping to fine mixture.  Mix in cream soup.  Top with tater tots.  (Sprinkle with cheese if desired.)  Bake at 350° for 1/2 hour or until tots are brown and crisp.